IMPORTANT: Please note that all property in Brewster County is either private property or is part of Big Bend National Park, Big Bend Ranch State Park, or other State preserves. It is illegal  to trespass on private property. Please do not collect rocks, plants, artifacts. Brewster County Tourism Council request that you abide by all laws and regulations.
Big Bend offers many exciting activities, from sightseeing in the family car and enjoying the amenities of a comfortable lodge, to hard-core wilderness adventures, and everything in between. People visit Big Bend to hike, camp, ride horses, paddle the river, pedal bicycles, ride motorcycles, look for wildlife, look for nightlife, and to get a life. Some work hard at it, others let professionals do the heavy lifting. A small community of experienced outfitters and activity providers arrange excursions of all descriptions, as well as provide good local information for visitors.
Big Bend offers a variety of hiking opportunities, everything from short interpretive walks, to rugged, multi day excursions. Big Bend National Park alone features a system of over 150 miles of improved hiking trails.
Five spectacular river canyons in Big Bend offer incredible opportunities to kayak, canoe or raft the Rio Grande. The river is not difficult for beginning and intermediate paddlers at normal river flows, and some sections are ideal for novices. Bring your own gear, rent equipment from local outfitters, or take a fully equipped guided trip from two hours to ten days.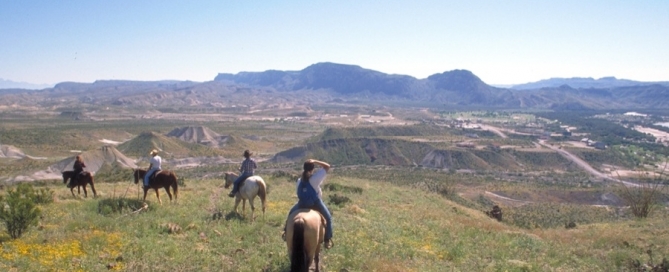 There is no better way to see Big Bend than from the back of a horse. Horse rides as short as one hour in length are available right outside Big Bend National Park in Study Butte. For the more adventurous trips from 3 hours to multi-day camping trips are available in Big Bend Ranch State Park.
Big Bend offers many opportunities for bicycle travel and sport. Scenic paved highways with low traffic are ideal for skinny tire road bikes with lots of gears. The extensive back road system in Big Bend National Park offers   great mountain bike access.
There is more to Big Bend than can be seen in a lifetime. Big Bend National Park is the main destination, and together with neighboring Big Bend Ranch State Park, there are a million acres of spectacular vistas, shadowy canyons, and rugged desert mountains that visitors explore by road, river, and trail.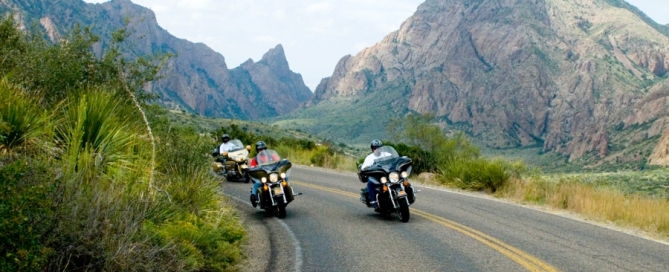 The Big Bend is one of the best places in Texas, maybe the world, to ride a motorcycle. There are hundreds of miles of scenic paved highways with mountains and curves galore.
Along with a variety of dining options in Marathon, Big Bend National Park, Terlingua, Study Butte and Lajitas, there is a surprising night life with live music at several locations just about every weekend, almost nightly during busy seasons.
There's a lot of country to cover in Big Bend. Big Bend National Park has 100 miles of paved road, and at least 150 of backcountry dirt roads. Highway 170 between Lajitas and Redford is one of the most spectacular drives in the US. Guided tours are available in a variety of vehicles, from luxury SUV's to rugged open air Jeeps with cloth canopies.
Getting around Big Bend can be a complicated affair. National Park Headquarters is over 4 hours drive from the nearest commercial airport, and two hours from the train station in Alpine. Backpackers, hikers, and river runners often need help moving their vehicles and equipment from the beginning of their route to the other end.
Big Bend National Park is the most bio-diverse park in the entire system. Within its boundaries, one finds more species of butterflies, bats, reptiles, plants, ants and birds. Over 450 avian species either live in Big Bend National Park, or migrate through at some point in the year.
Boquillas is a small village in Mexico that sits on the Eastern side of Big Bend National Park. The community features an international port of entry to cross the Rio Grande. The crossing is open Wednesday through Sunday year round from 9:00am until 6:00pm.
Organized groups, bus tours, bird watchers, and people who are curious about the intriguing natural and human history of the Big Bend can hire a specialized guide
Desert environments have inspired great philosophers, poets, artists and dreamers of every description. Once described as a dusty bohemia, Big Bend enjoys an abundance of resident musicians, painters, sculptors, photographers, lapidarists, ceramicists, and talented actors.