Lodging
In the remote Big Bend region, hospitality is a long established tradition. Accommodations run the gamut from 4 star luxury resort to economical motel rooms where active visitors can bed down and bathe in between adventures.
Casa La Vista is a soulful vacation get-away for family or friends.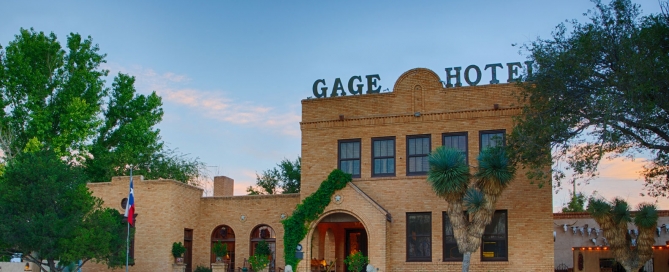 Gage Hotel Resort and Spa. The legendary Gage Hotel, built in 1927 by acclaimed architect, Henry Trost, offers authentic luxury accommodations which include 45 uniquely appointed rooms and casitas, charming courtyards with fireplaces and beautifully manicured grounds. Amenities include the stunning 27-acre native landscaped Gage Gardens with walking/running trails, full service spa, heated swimming pool, fitness center, multi-activity family game lot, and bicycle rentals. Enjoy a five-star dining experience at the renowned 12-Gage Restaurant and drinks at the White Buffalo Bar.