Night Life
Eve's Garden Bed and Breakfast An urban hacienda in the high mountain desert. Sculpted of papercrete and strawbale, this hostelry is unique, with art, gardens, old world architecture, an indoor lap pool, an organic florist, and spectacular sunsets. Room prices include a full breakfast.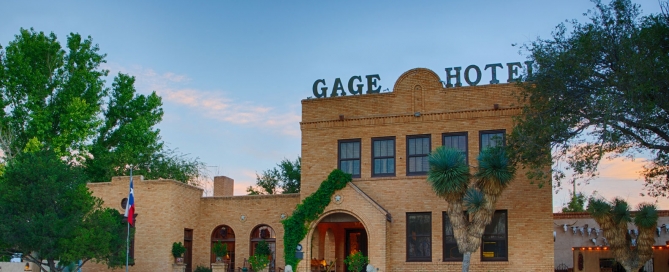 Gage Hotel Resort and Spa. The legendary Gage Hotel, built in 1927 by acclaimed architect, Henry Trost, offers authentic luxury accommodations which include 45 uniquely appointed rooms and casitas, charming courtyards with fireplaces and beautifully manicured grounds. Amenities include the stunning 27-acre native landscaped Gage Gardens with walking/running trails, full service spa, heated swimming pool, fitness center, multi-activity family game lot, and bicycle rentals. Enjoy a five-star dining experience at the renowned 12-Gage Restaurant and drinks at the White Buffalo Bar.
The Thirsty Goat Saloon often features live music in an upscale western bar. A limited food menu available. Adjacent to Candelilla Cafe. Lajitas Resort, Hwy.