Big Bend has inspired authors for centuries. The magnificent landscapes and peaceful atmosphere make for a wonderful story setting. Most of the following are written by local authors and bloggers with more content to come. Follow our posts to read some of this work here.
Aerial flights give a bird's-eye view of the Big Bend.
by Tori Martin, Trippin Yogis When you're looking for a place to get away, disconnect, escape into nature, there's no better place than Big Bend! As we spend time here, I can't help but notice the contrasts all around us. The landscape is harsh, yet breathtaking. The border between the US and Mexico is there, yet […]
By Cactus Jane There's no better way to begin – or especially end – a vacation in the Big Bend, than with the pampering luxuries at Agave Spa in Lajitas. The itty-bitty parlor is housed on the grounds of Lajitas Golf Resort, right next to a delicious bakery. It's a cozy, intimate setting, and can […]
By Cactus Jane One of the most relaxing things to do out here is take in the scenic drives. Cruising from village to village on long highways and county roads creates a zen-like joy. There's something satisfying about racking up the miles with nothing but mountains and range land in view. In the Big Bend, […]
The Rio Grande is a diminutive creek compared to the world's mightiest rivers. The Amazon, the Nile, the Mississippi make no claims to greatness in their name, but the Rio Grande does have a few attributes that allow it to justify its lofty moniker.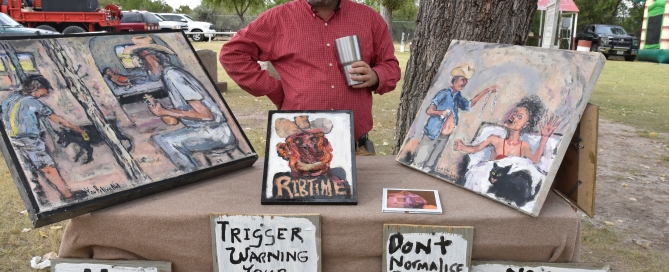 It's a casual atmosphere of fun and food at West Fest every year where cabrito rules but there are also brisket, ribs, salsa and dessert competitions plus so much more.
One time I had opened a book about America's national parks to a page showing a steep canyon. A muddy river flowed out of it, and at its edge, on a rocky beach, sat a cowboy on a horse. The text spoke of jagged mountains, sheer canyons, and hundred-mile vistas. Without knowing anything more, I longed to go there. The page header read: Big Bend National Park, Texas.
Since 2012, people have banded together for a day of music and fun on the Rio Grande called "Voices from Both Sides".
You never know what might happen in Boquillas. Sometimes, the plan is as simple as crossing the border for lunch at Falcon's Restaurant. But there is more to do than just eat and drink in town. If you're up for exploring less traveled options, you will find there are friendly people willing to help you experience other places and delicacies of Boquillas.
When you're looking for a place to get away, disconnect, escape into nature, there's no better place than Big Bend!
If you want a place to get away from all that city racket and regroup, the Big Bend is the place to come.
This river and I have a history. Thirty-seven years ago, I saw it for the first time. And I fell in love, not just with the Rio Grande, but with the rugged, wild terrain on both sides of it.
Big Bend National Park recently unveiled a brand new destination-worthy exhibit, the Fossil Discovery Exhibit. This incredible display of art, science and history officially opened January 14th and lots of people came out for it.