Big Bend has inspired authors for centuries. The magnificent landscapes and peaceful atmosphere make for a wonderful story setting. Most of the following are written by local authors and bloggers with more content to come. Follow our posts to read some of this work here.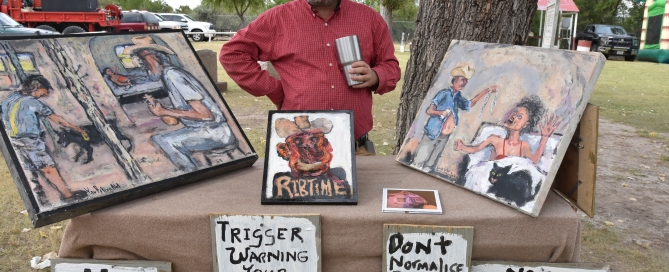 It's a casual atmosphere of fun and food at West Fest every year where cabrito rules but there are also brisket, ribs, salsa and dessert competitions plus so much more.
Weather
humidity: 65%
wind speed: 2 m/s SSE
wind gusts: 4 m/s
UV-Index: 0
sunrise: 06:56
sunset: 20:47
One time I had opened a book about America's national parks to a page showing a steep canyon. A muddy river flowed out of it, and at its edge, on a rocky beach, sat a cowboy on a horse. The text spoke of jagged mountains, sheer canyons, and hundred-mile vistas. Without knowing anything more, I longed to go there. The page header read: Big Bend National Park, Texas.
Since 2012, people have banded together for a day of music and fun on the Rio Grande called "Voices from Both Sides".
You never know what might happen in Boquillas. Sometimes, the plan is as simple as crossing the border for lunch at Falcon's Restaurant. But there is more to do than just eat and drink in town. If you're up for exploring less traveled options, you will find there are friendly people willing to help you experience other places and delicacies of Boquillas.
When you're looking for a place to get away, disconnect, escape into nature, there's no better place than Big Bend!
If you want a place to get away from all that city racket and regroup, the Big Bend is the place to come.
This river and I have a history. Thirty-seven years ago, I saw it for the first time. And I fell in love, not just with the Rio Grande, but with the rugged, wild terrain on both sides of it.
Big Bend National Park recently unveiled a brand new destination-worthy exhibit, the Fossil Discovery Exhibit. This incredible display of art, science and history officially opened January 14th and lots of people came out for it.
If you're in the Big Bend during the holidays, be sure to check out Marathon. It's a little town off Hwy 90 that knows how to have big fun during Christmastime.
The last frontier was not heard of much until writers and photographers started searching for other places to get stories and new photo material to share with magazines and newspapers.
Oh the sands of the desert. Where rocks protrude, reaching for the clear blue sky which allows the sun to caress the desolate waste. The camel, the ship of the desert, gracefully treads its way.