A brief overview of Big Bend History
Big Bend History
Tracks across the centuries trail back thousands of years when the first Native Americans arrived in the Big Bend.
Weather
humidity: 76%
wind speed: 4 m/s SSE
wind gusts: 5 m/s
UV-Index: 0
sunrise: 07:58
sunset: 20:05
he Big Bend is a remote region of West Texas that includes over one million acres of public land, Big Bend National Park, Big Bend Ranch State Park, and offers many activities, from camping and river rafting to horseback riding and off-road vehicle tours.
Brief History of Marathon Texas
Marathon  is located in a broad basin between the Glass Mountains to the north and the Del Norte-Santiago range to the south. This area is a transition zone between the higher mountain grasslands and the thorny chaparral of the Chihuahuan Desert, as well as a remarkable fusion of "old" and "new" mountains.
Lajitas is on the western edge of Big Bend National Park in southwestern Brewster County. It is at an altitude of 2,200 feet on a bluff overlooking the Rio Grande at the San Carlos ford of the old Comanche Trail, in the northern part of the Chihuahuan Desert and at the southern extreme of the Rocky Mountains.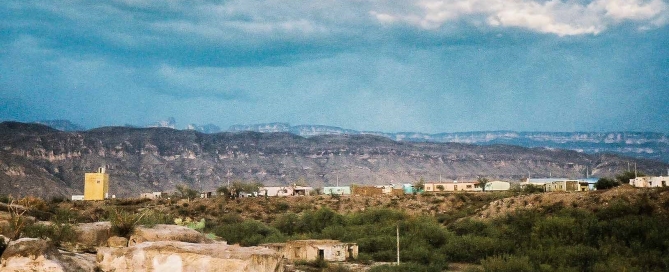 Important information about travelling to Mexico
As one old timer told a dewy-eyed tourist upon his first glimpse of the Rio Grande, "Boy, when you cross that river, you're in another country".