De robustes gorges dominent le puissant Rio Grande dans l'ouest du Texas et séparent les États-Unis du Mexique. La région de Big Bend au Texas offre un magnifique mélange de plaines montagneuses et désertiques. Des plateaux, recouverts de plantes Ocotillo ramifiées et de yucca en fleurs, s'élancent vers le ciel. Big Bend est plus qu'un […]
Weather
humidity: 26%
wind speed: 2 m/s NNE
wind gusts: 14 m/s
UV-Index: 0
sunrise: 07:30
sunset: 17:55
Craggy canyons tower over the mighty Rio Grande in west Texas, separating the United States from Mexico. The Big Bend area of Texas offers a blissful coexistence of mountain terrain and desert plains. Entire mesas covered with branchy ocotillo plants and blooming yucca reach sky high. More than a national park and state park, Big Bend […]
By Belle Peña-Lancaster Planning a trip to the Big Bend Region with children in tote can be a bit intimidating. The road wear you incur while traveling just to get to the Brewster County line is unavoidable, however it's completely worth it. From one family to another let us share our favorite hiking trails for […]
In Big Bend, you'll find wildlife crossing the land, birds and bats flying high above, constellation critters dotting the night sky, and fossil creatures buried deep below! Enjoy Big Bend wildlife on your next visit!
From spectacular stargazing to amazing sunset horseback rides, these are the top reasons you need to experience Big Bend's magical summer evenings.
One family fulfills a longtime dream of backcountry camping in Big Bend National Park!
Follow Ann on a 5-day roundtrip to Big Bend from Houston, Texas, where she shares great photo stops and a time table for visiting some of Big Bend National Park's top sights.
Paul and Marsha Weaver documented their stay in the Big Bend in many blog posts. Here, they share wonderful views and insights from Pinnacles Trail in Big Bend National park.
Consider the recent history of the hot springs and the story of how they became national park property for only $10. Be sure to make your way down that pleasant path for a soak on your next visit!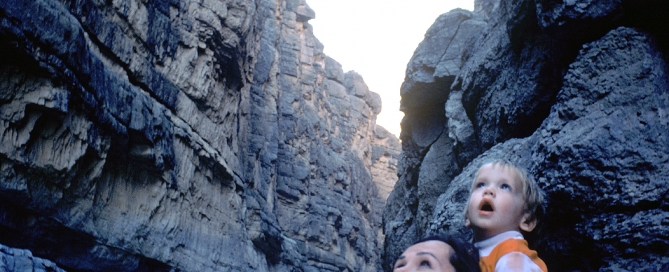 Visit Big Bend asked Joe Nick Patoski, prolific Texas author, to do a Top Ten for visitors headed to the faraway part of the state Patowski affectionately dubbed "Texas of the Imagination."
Aerial flights give a bird's-eye view of the Big Bend.
by Tori Martin, Trippin Yogis When you're looking for a place to get away, disconnect, escape into nature, there's no better place than Big Bend! As we spend time here, I can't help but notice the contrasts all around us. The landscape is harsh, yet breathtaking. The border between the US and Mexico is there, yet […]
The Rio Grande is a diminutive creek compared to the world's mightiest rivers. The Amazon, the Nile, the Mississippi make no claims to greatness in their name, but the Rio Grande does have a few attributes that allow it to justify its lofty moniker.